77 Hudson
77 Hudson St, Jersey City NJ
Description
77 Hudson Street Condominiums
77 Hudson Street is a luxury condo building in Jersey City's waterfront district. This white-glove property is one of the most luxurious condo buildings in New Jersey, with world-class amenities that are hard to find anywhere. 77 Hudson was developed by one of the country's premier home builders K. Hovnanian and interiors were done by award-winning architecture firm Cetra Ruddy.
77 Hudson Street Condos
There are 420 luxury condo residents at 77 Hudson St, all of which feature high-end finishes and fixtures. As the building was designed with views in mind, each apartment features a wall of windows, offering stunning vistas and letting natural light soar in. The best views are found on the highest floors in east-facing units, which offer stunning panoramas of the New York City skyline and the Hudson River.
The condos at 77 Hudson are equipped with high-end appliances from Bosch and imported Italian cabinetry. The kitchens have built-in appliances and quartz cabinetry, while the luxurious bathrooms feature marble tilling, rainfall showers, and deep-soaking bathtubs.
Each unit at 77 Hudson is also equipped with in-home laundry.
77 Hudson Street Amenities
There are over 44,000 square feet of amenities at 77 Hudson Street, and they are some of the finest you can find anywhere in the country, the highlight of which is the swimming pool and hot tub. Other spa-like amenities include a sauna, steam, and massage rooms. The building also has an impressive roof terrace equipped with grilling areas, patio furniture, a bar, and a fireplace. There's also a movie room, virtual golf, a state-of-the-art fitness center, and a lounge for residents to enjoy.
Another perk of living at 77 Hudson is the grocery store located next door to the building's lobby.
77 Hudson Street, Jersey City Location
The 77 Hudson Street condo benefits from a fantastic location in the heart of Jersey City'sCity's waterfront district. Everything is within walking distance, including the waterfront boardwalk, which is just 2 blocks away. The Exchange Place Path station and ferry are also a few minutes walk away, making commuting to NYC a breeze.
Key Details
77 Hudson Pricing Stats
Floor Plan of the 77 Hudson amenities
The 77 Hudson amenities are located on the 11th floor. Click on the image below to view in full screen.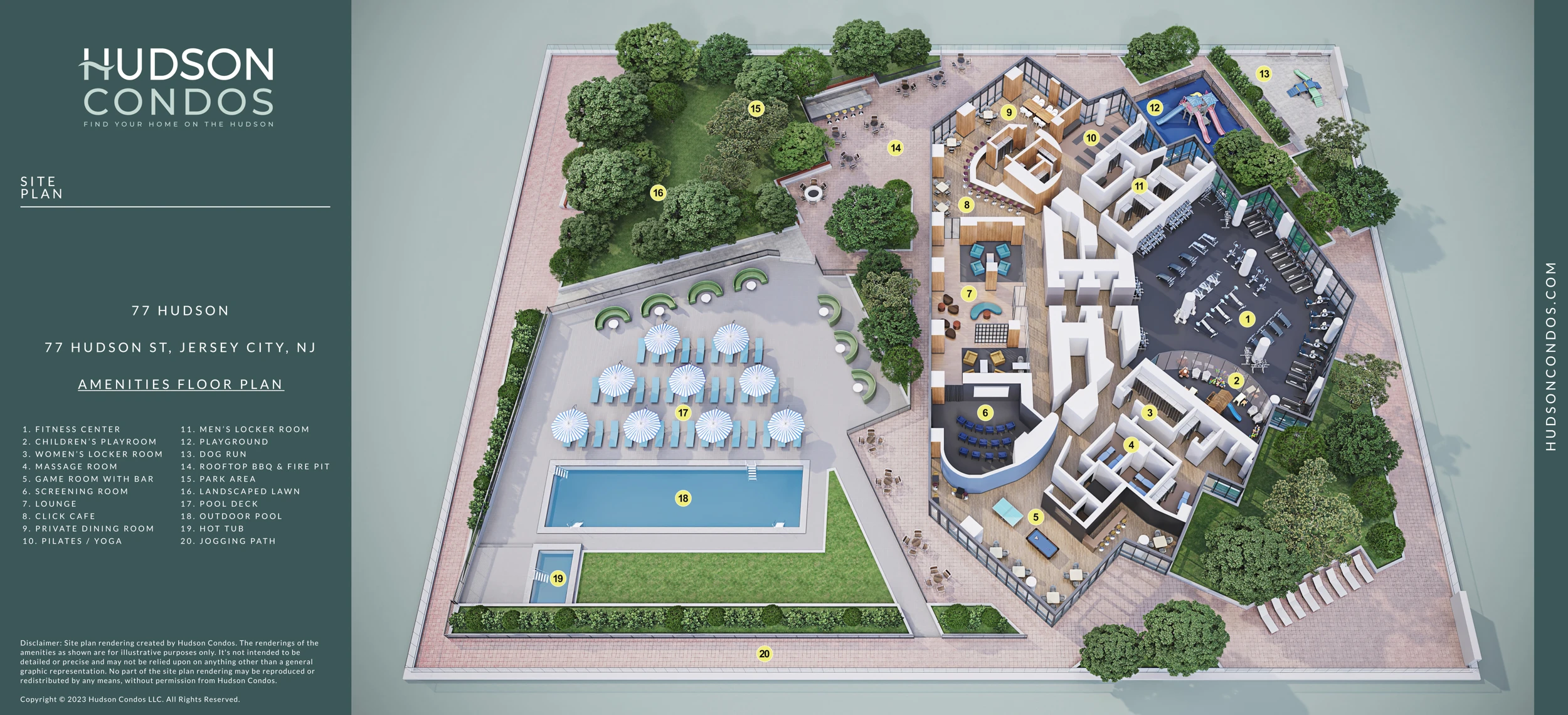 Site Plan of 77 Hudson
Click on the image below to view in full screen.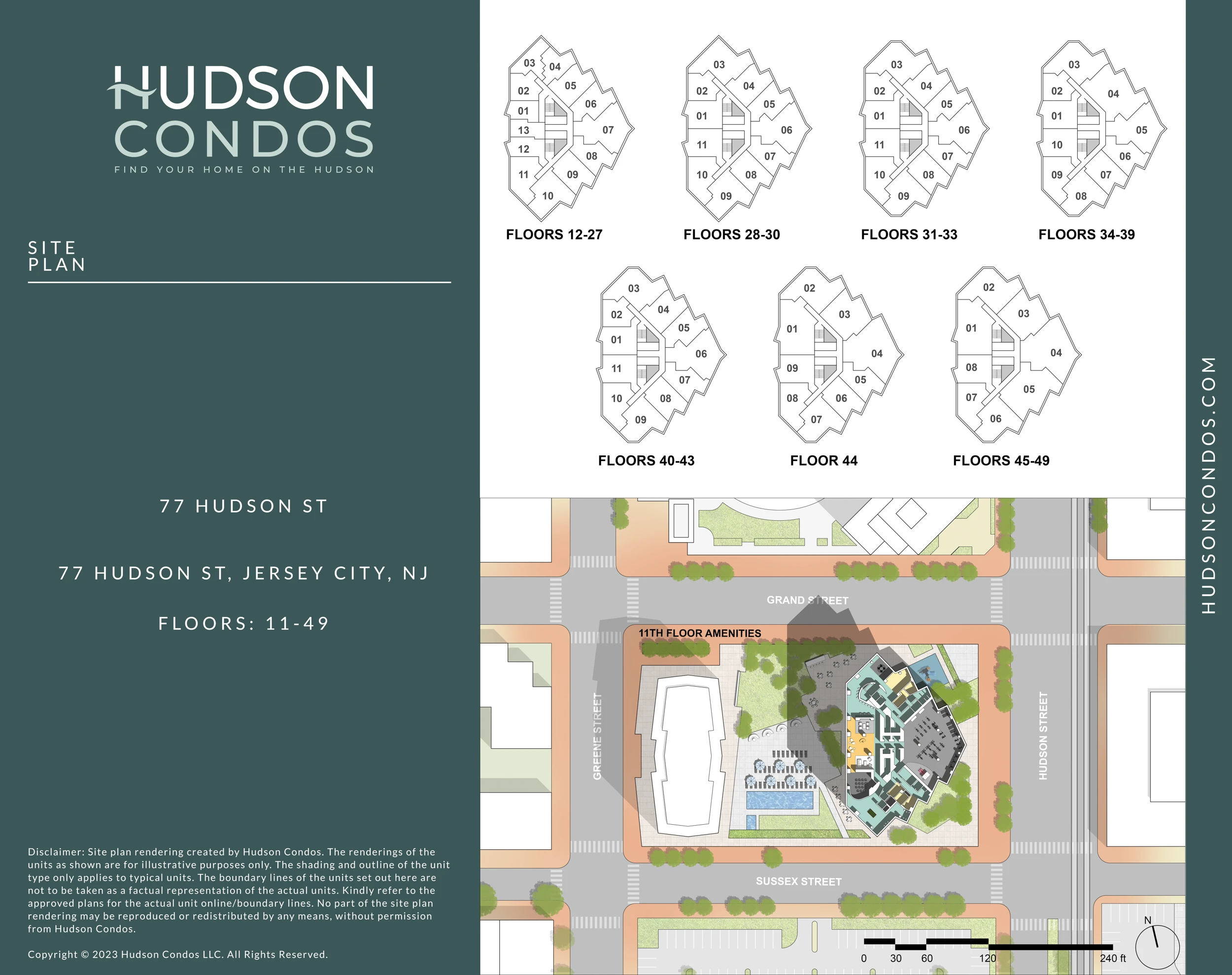 77 Hudson Floor Plans
[wpdatatable id=1]
Frequently Asked Questions
How Much Do Apartments Cost at 77 Hudson Street?
Prices for apartments at 77 Hudson Street start at around $550,000 to $600,000 for studios while one-bedroom residences cost between $700,000 and $1,100,000. The price of 2-bedroom condos at 77 Hudson can vary dramatically based on the size of the unit and the view it offers. Smaller, 1,000-square-foot two-bedroom residences can start at around $1,200,000, while the largest 1,500+ square foot two-bed homes can sell for as high as $2,000,000 or more. The most expensive apartments at 77 Hudson can go for as much as $3,000,000 for three-bedroom penthouses on the building's highest floors.