The 12 Best Jersey City Condo Buildings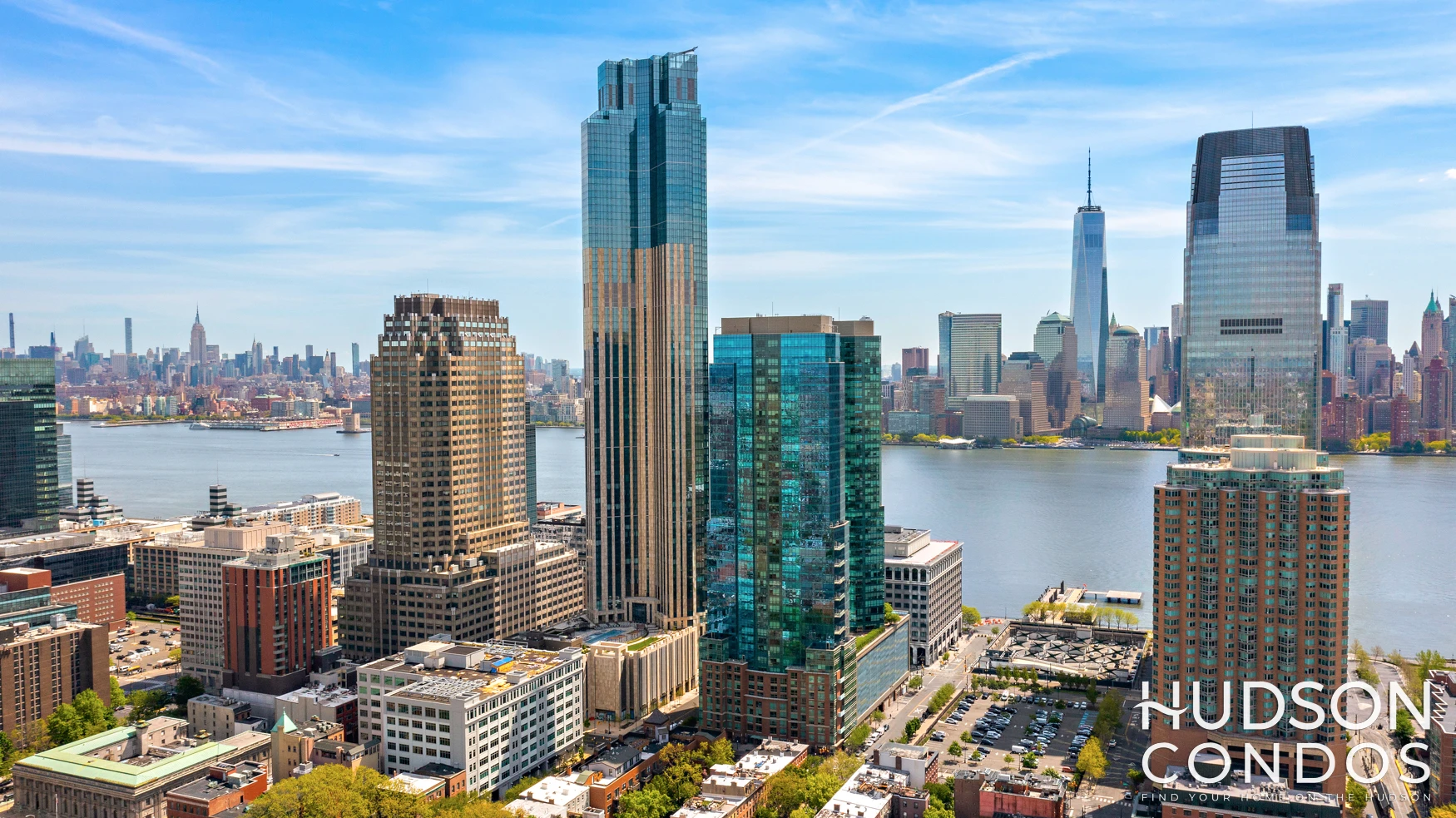 Jersey City is known for its luxury condos with stunning views and covetous waterfront access. But, with so many fantastic options, choosing the right condo can be difficult. That's why we've put together a list of the best luxury condos in Jersey City to help you find the one best suited to fit your needs.
Jersey City is a wonderful place to live. The city offers unparalleled access to NYC, an incredible waterfront, excellent shopping, dining, and nightlife, and attractive tax benefits for NYC workers. Read on to discover the 12 best condo buildings in Jersey City.
12 Best Luxury Condos in Jersey City
A luxury waterfront property located in Newport, this 25-story apartment building boasts some of the best views in the entire city. Residents of this 269-unit building benefit from top-tier amenities, such as full-time concierge and valet services, an indoor fitness center, outdoor recreational spaces, a rooftop swimming pool, and stunning garden areas – all while enjoying a captivating view of New York City just across the Hudson. The building is pet friendly, with easy access to a multitude of shopping centers, restaurants, and entertainment. It is hands down the best location for anyone interested in an upscale lifestyle.
77 Hudson Street is a 48-story high-rise condo building that is one of the best pieces of the Jersey City skyline. An architectural triumph, this towering high-rise is lined with a wall of windows that stretches from top to bottom and corner to corner, giving residents a perfect view of Manhattan, the Statue of Liberty, the Hudson River, and the New York Harbor. Amenities include a landscaped rooftop park (complete with both a recreational pool and hot tub), grill area, indoor fitness center, dog park, yoga room, steam room, and more. With 275 different floor plans available, there is something for everyone at 77 Hudson.
The tallest building in the city, this classic high-rise boasts 79 stories of unparalleled living. A waterfront property situated along the Hudson River, 99 Hudson has both excellent walkability and easy transit into the main city. Its amenities are designed to elevate residents' everyday lives and include features such as a sweeping triple-height lobby, full-time doorman and concierge service, children's playroom, library, fitness and wellness centers (complete with a resort-like spa), swimming pool, game room, business center, exclusive lounge and more. With easy access to local restaurants, nightlife, and entertainment, 99 Hudson is one of the best living experiences in the entirety of Jersey City.
Another popular choice for a perfect view of the Manhattan skyline is Crystal Point. Situated roughly 25 feet from the Hudson River, every single residence in the building features a waterfront view and has various sizes ranging from 800-1800 square feet. Interior features of these apartments include floor-to-ceiling windows, granite countertops, full-height pantries, and modern SMART-home technology. Other building amenities include the Crystal Spa (which has a sauna, thermal bath, and steam room), fitness center, lounge area, outdoor hot tub, private cabanas, fire pit, and a children's play area. And the lobby-level restaurant will provide residents with some of the best food in the city.
One of the best luxury condominiums in the city, Gulls Cove is located in the Historic Downtown area of Jersey City. It sits on 80 acres of waterfront property and is central to both the Paulus Hook and Van Vork Park districts. Amenities include 2 outdoor courtyards (complete with gas grills and a golf putting area), a full-time concierge, a fully equipped fitness center, a children's outdoor play area, charging stations for electric vehicles, and a monitored security system. Its residences have both abundant natural lighting, as well as modern and stylish designs. This building is perfect for anyone interested in a combination of luxury, convenience, and first-class design.
Another of the best options in the Historic Downtown area of Jersey City, Dixon Mills, is a beautiful complex of brick condominiums. It is made up of five buildings: The Landmark, The Ticonderoga, The Heritage, The Lafayette, and The Atrium. Each separate building has its own choice of unique floor plans and other amenities, but all are conveniently located close to nearby business centers, parks, shopping, restaurants, and other sources of thrilling entertainment. And, with a choice view of both the New York City skyline and the Statue of Liberty, Dixon Mills is a great option for anyone drawn to life on the Gold Coast.
Constructed in 2005, Portofino is one of the best at combining urban living with a luxury lifestyle. This 26-story building has condos ranging from studio apartments to three-bedroom suites, many of which offer private open terraces. Other architectural features include oversized windows, hardwood floors, and gourmet kitchens. In addition to its impressive view of Manhattan, Portofino also provides its residences with a heated outdoor pool, full-time lobby attendant, business and community rooms, and full access to the indoor fitness facility. Ideally located close to local farmer's markets, green spaces, and the Hudson River Waterfront Walkway, Portofino is sure to impress anyone following a more active lifestyle.
Another one of the best condo buildings in Jersey City is Sugar House. This historical property is another industrial-style brick building and is best known for its luxurious loft-style condominiums. Bearing only 65 units, Sugar House is significantly more exclusive than some of the other buildings on this list and may appeal to those looking for a quieter, more private residence. Each loft comes equipped with open-living plans and floor-to-ceiling windows. Other amenities include indoor bike storage, a full-time concierge, a fitness center, garden areas, and onsite parking.
A steel and concrete building, 700 Grove Street sits on the border between Hoboken and Jersey City. It is best for those who prefer a low-key lifestyle while still enjoying the benefits of being close to downtown. Residents of this building will benefit from amenities such as a full-time doorman and concierge, single-car garage parking, shuttle services, a fitness center, significant storage space, oversized bedrooms and bathrooms, hardwood floors, and open outdoor balconies. The building is also pet-friendly.
Only three years old, this 28-story condominium is one of the newest luxury housing options in Jersey City. Built by the renowned Toll Brothers City Living, 10 Provost Street is one in a string of recent redevelopments in the area. The building offers a variety of residences, ranging from studio apartments to 3-bedroom suites, and includes features such as an outdoor swimming pool, fitness center, onsite garage, and front desk concierge. Overlooking the cobbled streets of the newly developed Provost Square, this building is both pedestrian-friendly and perfect for anyone involved in the local arts community.
88 Morgan Residences, formerly known as Trump Plaza Residences, is a towering luxury apartment building in the heart of downtown Jersey City. Located two blocks from the Hudson River Waterfront, the building's amenities include beautiful views of the Manhattan skyline and the Statue of Liberty, a state-of-the-art fitness center, an outdoor swimming pool, a children's play area, and more. It is the ideal spot to find upscale retail, restaurants, and ferry access, all while only a moment's walk from the city's Gold Coast.
380 NWK is one of the best options for a newer building with a more contemporary feel. From its sleek facade to its spacious individual units, every detail of this 45-unit condominium was designed to draw attention. It has over 7,500 square feet of amenity space, which includes an outdoor roof deck (complete with both a kitchen and movie theater), as well as an indoor fitness center. Residents are able to choose between 1-3 bedroom floor plans, most of which have that highly-desirable view of the Manhattan skyline.
Best Condos in Jersey City: Bottom Line
There are plenty of incredible condominium buildings in Jersey City. Whether you want to live in a historical building with pre-war charm or a brand-new luxury sky-rise, there's something for everyone in Jersey City.
And if you want to expand your search but still want waterfront access and great nightlife, you can always explore the best condos in Hoboken.
Featured Communities in Hoboken, NJ
Browse all Hoboken communities
Featured Communities in Weehawken, NJ
Browse all Weehawken communities
Featured Communities in North Bergen, NJ
Browse all North Bergen communities